Each time we come to Paris we visit the kitchen suppliers who are huddled in the Las Halles area of Paris.  Le Halles used to be the "Belly of Paris" a term made famous by Emile Lola in his book titled Belly of Paris. Unfortunately the "belly" no longer exists in it's former form and the suppliers of meat, fish and vegetables have moved outside Paris to Rungis. The Rungis wholesale market officially opened on 3 march 1969, and has been growing ever since.
There are tours of the market, however, this person, tried as he may, has never been able to successfully book a reasonable priced tour of the market.  So if you are up to it try booking a tour; they range form an affordable 89€ to 300€.
An excellent book about the old Les Halles Market is "Paris in a Basket, Markets – The food and the people" by Nicolle Amiee Meyer and Amanda Pilar Smith, it also cover the markets in the 20 Arrondissement of the City.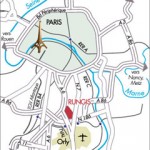 The good news is the kitchen shops have remained in Les Halles and no trip to Paris for a foodie would be complete without a visit to one or all of the shops.
(See list of US Suppliers at the end of this page)
The most well known and jewel in the crown is E. Dehillerin. Â Opened in 1820 they are know for this copper pots and molds. In the old days I used to fax my order over prior to coming to Paris, in today's world they have email. Â However, the prices are no longer a bargain for Americans due to the poor performance of the dollar to the euro. Â However it there is something you want and can not find in in the USA this is the place to come.
buy clomid from india E. Dehillerin
18 et 20, rue Coquillière and 51, rue Jean- Jacques Rousseau
75001 PARIS
Phone: +33 1 42 36 53 13
Fax: +33 1 42 36 54 80
Email:Â info@e-dehillerin.fr
Their catalogue is now online to look at — even if you do not plan to visit.
The next stop on my list or your tour is
cheap neomercazole online A. Simon
Address: 48-52 rue Montmarte, 75002 Paris FRANCE
Tel:Â  +33 01 42 33 71 65
Website:  www.simon-a.com (Note: This is their published website, but the link does not go to them.  They probably they do not believe they need a web presence.)
This is where Parisian chefs come for their kitchen needs—from plates and glasses to pans, dishes, and wooden spoons. The quality is excellent and the prices reasonable.  If you've been to A Simon recently you may have noticed
the improved layout and additional items, like spices and specialty syrups mixed in with the kitchen appliances. Well I did some reconnaissance on a recent visit and found out that there has been a change in ownership and that the new owners of A Simon are G. DETOU!! That's right, the fabulous culinary specialty shop around the corner has extended its domain.
G. Detou (My favorite for food coloring)
58 rue Tiquetonne
75002Â Paris
01 42 36 54 67
G.Detou (a pun on "J'ai de tout," or "I have a bit of everything"), and while not a kitchen supply store it is important to you foodies. Especially with its collection of large-sized cooking supplies — bags of Valrhona chocolate powder, packets of 50 vanilla beans, and smaller gift items of unusual jams, honeys, spices, grains and every kind of dried mushroom. Planning on making those violet macaroons when returning the the USA, better pick up a bottle of purple food coloring.  This is also a great spot for you geeks interested in Molecular Gastronomy, for they have a good supply of chemicals needed for the process. (Sodium Alginate, Calcium Lactate, Calcium Chloride, Gellan Gum, etc)
Mora
13 Rue Montmartre  75001
01 45 08 19 24
website: http://www.mora.fr
email: moracontact@mora.fr
On rue Montmartre, at number 13, lies the smaller, but no less exciting, Mora.  Mora is also geared toward culinary professionals, but certainly caters more to the pâtissiers and chocolatiers.  The front of the shop displays Staub cookware (Check your prices its cheaper in the USA), silicone molds,
glassware, knives, and a selection of serious cookbooks (when I say serious, I mean big and expensive, and textbooks like "Modernist Cuisine" in French). Pastry chefs come from all over the world to visit MORA, which has a great selection of tart and cake molds, whisks and spatulas, and just about everything else. Plus the best selection of chocolate molds in Paris.
Mora is also a great sources for food color and flavorings.
La Bovida
6 Rue Montmartre 75001
01 42 36 09 99
website:Â http://www.labovida.com/
Providing trades deli and butchery since 1921, The Bovida has emerged rapidly as an expert in the service of all food professionals: traders nearby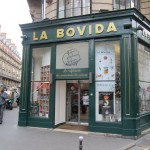 public and private entities, supermarkets and hypermarkets, specialist crushing spices and a major player in the trading cooking equipment, we answer over 90 years with the expectations of professionals.We propose a complete spice, supplies, materials and equipment, which covers all the needs of each business, the laboratory at the table through the store.
Librairie Gourmande
A great cookbook store located on rue Montmarte. Â Of course most of the books are in French, but this will definitely help with you food french and expand your horizons. They also sell molecular gastronomy supplies.
92/96 rue Montmartre 75002 PARIS
Tél : +33 1 43 54 37 27
Fax : +33 1 43 54 31 16
Mail : contact@librairie-gourmande.fr
website: http://www. librairie-gourmande.fr
Cooking Classes in Paris
La Cuisine Paris My personal favorite
La Cuisine Paris is a Franc-American creation born from two people's (a native Chicagoan and a native Parisien) desire to combine their passion for cultural exchange, their love of contact with others, and their love for the most simple yet profound gift of sharing: food.
Cuisine Paris is a French cooking school in the heart of Paris offering a variety of different cooking classes, from preparing a three-course meal to mastering a perfectly buttery croissant. La Cuisine Paris' staff includes a dynamic team of skilled international professional chefs, all talented in their own wonderful way. Coming from different backgrounds and experiences, they all share a common value: the desire to share their "savoir faire" and passion with you. Â  Come discover our kitchen ("la cuisine"): roll up your sleeves, learn something new, share a few laughs and enjoy the entire cooking experience.
As we say, "all good parties end up in the kitchen". Join us!
Do you wish to learn the art of French cooking in a fun, relaxed atmosphere?
Cook'n With Class invites you to our cozy kitchens in magical Montmartre, Paris where you can choose from a wide range of hands-on cooking classes taught in English.
Resources in the USA for cooking and baking supplies:
Sur La Table Retail location around the US with on lie resources including silicon mats and molds.
Williams Sonoma Specializing in KitchenAir professional line of products.
LorAnn Oils  sells a variety of flavorings for all your candy making and baking needs. We also carry a wide selection of hard candy molds, candy making accessories and hard-to-find specialty baking ingredients.
Wilton Industries Online Store  Cake decorating supplies available in retail stores throughout the US.
The Paris Gourmet Located in New Jersey with a catalogue of French Products.
John Koerner and Company Molecular Gastronomy supplier
D'Artagnan is a company dedicated to putting the finest foie gras, meat, game, truffles, and mushrooms on the tables of American gastronomes whether at home or in restaurants.
The Perfect Puree of Napa Valley  Fruit purees and concentrates also available from amazon.com.
The Chefs Warehouse  Nut purees and other products.