http://nghomes.com/2021/05/31/best-crypto-stock-exchange Headed home!
Jacobina We got up this morning at our usual time of 7:00, showers and headed for breakfast.
We departed La Perla at 9:00 and were picked up by a Mercedes van arranged by Vantage as part of our package, headed to the airport in Dubrovnik.  At the airport we met up with Paolo who walked us through the checkin process. We then walked to the UAL counter and checked our bags, we had uploaded the results from our Covid Antigen test yesterday so we were good to go.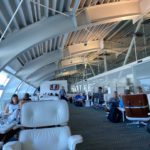 We cleared immigration and security and we're now sitting in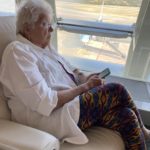 the United Business Lounge awaiting boarding at about noon. Were flying from Dubrovnik to Newark NJ where we will clear immigration and Customs and board a flight to Richmond arriving at 8:30 and then drive home.
When Mike entered this post, he did not realize the frustrations that this travel would bring.  First of all, his boarding pass from Dubrovnik to Newark was marked "SSSS," which stands for Secondary Security Screening Selection.  It is supposedly, a random selection – but it has happened to him before. So, as they scanned his boarding pass, a Security agent came over, took his boarding pass and passport, isolated him for special screening.  I won't tell you what that entailed other than he was not happy.  They were checking another man at the same time. They handed Mike a passport and boarding pass – not his! But, the other gentleman was no where to be found. Luckily they were on the same flight. Meanwhile, I am settled in on the plane and I hear the flight attendant paging Michael Rohde.  Shortly, a flight attendant walks back to Mike's seat, looking for him. I told her he was pulled out for special screening and she incredulously asked me how she had his passport and boarding pass. Like I would know how that happened! It gets straightened out, but the flight attendants have taken dinner orders and, when they finally check in with Mike, his first choice is not available. Now he is angry.
The impact of that SSSS stretched across the Atlantic to Newark. We used Global Entry to get through Immigration, Customs was a breeze after our suitcases finally showed up. Â We rechecked them on to Richmond. Unfortunately, we had to go through TSA security check point before continuing on to our connecting flight. That insidious SSSS had voided TSA PreCheck for Mike, meaning he had to go through the regular check point: remove his shoes and belt, power up the airbook, etc. Now to most of us, removing our shoes is not a big deal, but TSA has removed most benches and places to put yourself back together. Mike needs a bench to get his shoes back on. And, we had a short layover in which to get from Terminal C to Terminal A, in an airport where NJ has failed to improve the HVAC and it is as hot as Hades. As you can imagine, not a good scene at all. Luckily we made our flight to Richmond and were able to drive the hour and a half home.
We got home to Morgan doing zoomies around the living room! So happy to see us!