First stop this morning La Pompadour for croissant and a pain au chocolate.  Then back to the apartment for breakfast.
About 10:00 we when for our morning walk we walked southwest towards the Jardins Ranelagh, about a 10 minute walk and a ½ of a mile.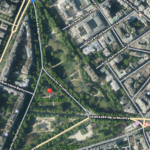 We passed a flower shop we had seen on previous trips with a great outside decoration and 2 very cool fake like oak trees with lights and the bakery we frequent on Sundays when La Pompadour is closed.
We walked around the park for a while watched the ground keepers setting up a sprinkler, curious because it has pretty much rained a bit every day for the.past couple of weeks in Paris, go figure? We then headed back to the apartment to get Pat's Navigo Pass (Metro) from her other coat.We walked down to Ave Henri Martin to catch the 63 bus and head down to the river for a walk to the Tuileries Garden, about a 1 hour walk from the Alma Marceau bus stop by the George V bridge. We entered the park and grabbed a couple of chairs about mid way in and enjoyed the sun and the people watching.  We were right by a piece of art by Alexander Calder (Janey Waney) an American sculptor who is best known for his innovative mobiles (kinetic sculptures powered by motors or air currents) that embrace change in their aesthetic and his monumental public sculptures.
In route to the park we ran across the newest craze for "Locks of Love" attaching them to signs, during our  prior visits we noticed the locks starting to appear on basement window grates. You will recall back in 2012 we attached our lock to the original location at Pont de l'Archevêché. In 2015 we saw an article appear about the French
Government removing the bridge sections due to damage from the excess weight. The article can be found here.
We took the metro back to the apartment and had a lunch of salad with leftover rotisserie chicken.
The evening opened with a metro ride to La Cordonnerie for dinner, we had reservations at 8 PM for our usual table in the kitchen. We spent some time catching up with Hugo while he prepared dinners for other guests.
We started by sharing the special appetizer of Foie Gras in a balsamic cream sauce, this sauce was exceptional. We had all good intensions of having Steak and
Frites, but almost always we opt for the "specials." Pat selected the Yellow Cod steamed with grainy mustard, celery in a light cream sauce and scalloped potatoes  and for me the lamb stew.  The lamb breast was trimmed nicely and stews to tender and then was cooked in a demi-glase that was the highlight of the dish.   I wanted to lick the plate, fortunately there was plenty of crusty bread to absorb the remaining sauce. This was all washed down with a carafe of Gamay** wine.  For dessert we shared Hugo's chocolate fondant, a dish created by his father when he ran the restaurant, its basically a slice of chocolate mousse on a bed of sponge cake which Hugo places in the oven briefly and the surface melts creating it own sauce and the decorated with a drizzle of dark bitter chocolate.  We departed the restaurant at about 10:30 PM.  We have reservation for the next 3 Friday nights so we may have another shot at steak frites.
Today's steps = 15,583 or 7.1 miles
** Gamay is a Burgundy grape that has existed since the 14th century. For fear of competition with the pinot noir of Burgundy, gamay is finally ripped and planted in Beaujolais , from Mâcon to Lyon. These siliceous and granitic soils suit him perfectly, and here he gives the best of himself . But it is also planted everywhere in France like in Lorraine, in the Valley of the Loire, in Bugey, in Savoy, in Auvergne.It is a black grape with white juice and bunches and juicy berries of medium size. Gamay is early and very produ ctive and needs to be limited in order for quality to outweigh the quantity . The short size of the vines in winter and the high density of vines per hectare are the methods that allow it to produce very fruity, fresh and greedy red wines . Also very noticed in red wine primeur , gamay gives wines of the vintage of the Beaujolais with the characters and the potential of guard quite interesting.
AOC Cremant-de-Burgundy , Mâcon , Anjou , Touraine , Rosé Loire , Côtes-d'Auvergne , Saint-Pourçain , Bugey , Gaillac , Côtes du Luberon