Our first full day in Paris began a bit late.  We woke to the bright sun light streaming in through the second floor windows.  It was late, some time around 0930, so I think we may have adjusted to Paris time with the help of ambien and Tylenol PM and some wine.  We made coffee and enjoyed some of the bread from yesterday and I made and egg for Pat.
We showered and dressed and headed out.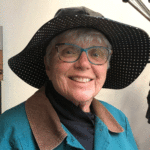 Our plan was to explore around the neighborhood see what changed, and what was added. The bistro on the corner of Rue de la Pompe was closed but only for renovation, we looked in through the open door and noticed a total gut job, don't think we will be enjoying a glass of wine on the street at this place this trip.  Paul, a huge bakery chain also opened up on the opposite corner in what  I believe was a household store previously.  While the bread at Paul is very good and they offer some interesting whole grain breads we will mostly visit the La Pampadour. While on our walk we came across a very interesting bakery, "Aux Merveilleux, by Fred" by a baker we have never heard of, not that we know them all but we have heard of the most noteworthy one in Paris. The bakers name is Frederic Vancampe, and it a very interesting story and his creation including the Merveilleux.

Pat snapped some photos along the route of some of her favorite architectural styles: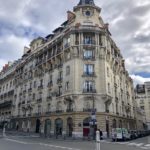 Including a photo she sent to Martin and Paula hoping they would purchase the apartment for sale.
Seems like the shopping choices in the area have increased with more choices for produce, fish and meats, let's not forget wine but its hard to forgo Nicolas for good wine at great prices. We walked up to Rue Passey and got there about 12:55 just as the Passy Market was closing, we made a quick round of one of our favorite indoor markets and the headed back to the apartment.
After about a 3 mile walk we returned to the apartment for a nature break and then off on an adventure.  We took the metro (9) to the RER (A) to Gare Lyon.  Exited Gare Lyon and walk up to a very cute street name Rue Crémieux which has been popularized by social media, and not in a good way.  It seems that it has turned into a nightmare for the residents. See the attached article. The street has petitioned the City to install gate for residents only it has become such a problem.
We decided to take the bus back and jumped on the 63 all the way back to the apartment.
For dinner we selected a…………wait for it………rotisserie chicken, Pat's favorite along with the potatoes roasted in the bottom and some haricot verts from the market.
Tomorrow's adventure, who knows, however we have dinner reservations at 2000 hours at Hugo's restaurant La Cordonnerie.
Today's steps = 9,937 or 4.6 miles