We're off to the markets and other things today.
We have decided to visit another 3 markets today:
All of the market proved to be worth the visit event the smaller one Marché Bobillot at Pace de Rungis.  However the largest and best for the day was Marché Auguste-Blanqu the one we passed up on Tuesday were glad that we decided to return on this visit. The above links contain the descriptions and photos.
After the markets we stoped at La Maison d'Isabell to buy a couple of their award winning croissants, we planned to get them yesterday and we forgot.  YUM!
We headed over to Bon Marche so Pat could continue her quest for the perfect purse and I always enjoy waling around La Grande Épicerie de Paris. Nothing purchased today.
Back to the apartment to update the blog and rest before our last dinner a La Cordonnerie.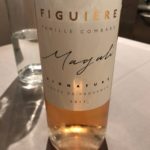 Our dinner tonight was of Lieu Jaune (Yellow Pollack) in a lime cream sauce with red quinoa, and Sautéed celery. Both pat and I chose the fish Pat stared with a vegetable plate and selected the terrine de canard. Because the weather is warming and we were have fish we selected a Rosé from Provence as our wine. No dessert tonight because we opted for a second bottle of wine however we did have an espresso and a cappuccino to complete the meal.
Lieu Jaune (Yellow Pollack) From the family Gadidae, such as cod or cod, whiting, hake or burbot
It is a little known fish of the public but that the chefs adore, especially those who fight for sustainable fishing, like Gaël Orieux, godfather of Mr. Goodfish.

These chefs try to cook other species than traditional salmon and cod to avoid overfishing as is the case today for bluefin tuna.
The Yellow Pollack is caught on the line on the Atlantic, Brittany and Channel coasts. It has a dark lateral line with a well marked curvature above the pectoral fins. Its lower jaw is visibly longer than its upper jaw. Its head is sharper than that of the black place, its cousin, and its color is rather coppery but is sometimes darker brown. His belly is clear.Young people have recognizable yellow-orange colors.

This wild fish has a flesh that resembles that of cod, nacreous that stands out in petals, and whose flavor is exceptional. At the sign of freshness, its flesh must be pink.

Watch over the stalls of your fishmonger, it is not found as easily as salmon but it will seduce the whole family because it has few edges and its taste is fairly neutral.

It should not be confused with the black pollack of the same family, but which, more common fish, has a drier flesh, and sells half the price of the yellow pollack, much more tasty and with finer flesh.

It is a lean, low calorie fish that provides as much protein as meat but much less fat, (less than 2%), most of which are polyunsaturated fatty acids, especially omega 3 , with