Off to check out additional markets today.
We began with the Marché Saxe-Breteuil in the 7th arrondissement which is actually on the line between the 7th and 15.  A very nice market in a very nice residential are of Paris.
Next stop the 5th arrondissement and the Marché Maubert where we came across La Maison d'Isabelle at 47 Boulevard Saint-Germain the bakery who is the 2018 Croissant au Beurre of the year
Next stop was a little further afield in the 6th arrondissement the Marché Port Royal.
We then when over to the first arrondissement to the Marche des Halles which used to be a good market but we found little food and most to he was take-out.  This area which used to we the belly of Paris is now very tourist inhabited.  The cook ware stores still remain to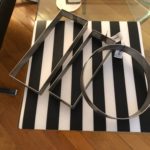 the likes of E.Dehillerin, Mora, La Bovda, Datou, A.Simon, etc.  While I was not planning to buy I could not help but get some bread moulds for the bread I have been making lately at home.
We had plans to shop for dinner at the Marche des Halles but we quickly changed those plans and after a walk around the area to scope out other change we jumped the metro back to the 16th arrondissement.  We drop off the moulds at the apartment and headed up to Rue Passy tossup for dessert.  We oped to get to Aux Mervielleux by Fred (see our post that includes this) . Start on rue de l'Annonciation, a cute and cobbled pedestrian street – home to Aux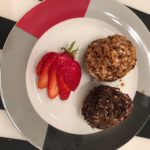 Merveilleux de Fred. If you're into meringue, this patissier might just be your idea of heaven: Merveilleux are gigantic meringues layered with cream and chocolate, rolled in white and dark chocolate flakes.  We chose two mini Merveilleux a Le Merveilleux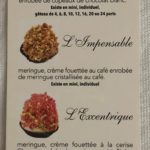 for Pat and a Le Magnifique for Mike.  While walking bake we found a pastry shop the had a mini Tarte Tropézienne about the size of a hamburger roll.  We purchased one of these as well.
Back by the apartment we purchased a fleet of beef from the butcher, Brussel sprouts and potatoes from the vegetable/fruit store and a baguette from La Pompadour.  Home for wine and then dinner.
Steps today = 17,232 or 7.8 miles (-837 calories and 7 flights of stairs)