Today we got a late start but were headed for the President Wilson Market. At the market we shopped for dinner fixins because we expect to sort and order a rotisserie chicken for
dinner.  We walked Shelley and Stacy through the market an of course they shopped and even purchased some vegetables for dinner.  They then headed of for the Bateau Mouches for a ride on the river.  Their next stop is going to be the Museum D'Orsey, and maybe Sacré Cœurs de Montmarte.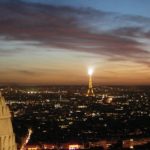 We all have some other shopping before we head out for our journey.  We stopped by the Marché Passy however, they were not cooking fresh chicken so we stopped by the Boucher shop on Rue de la Pompe by our other apartment and order a chicken for 1900, 2 stops on the bus or a reasonable walk.
Pat started some looking for gifts for the chicken ladies, the one collecting egg in our absence.  We all stopped in at WH Smith to purchase a new street map, it seem we overlook adding it to our tile of stuff to bring.
We're now back at the apartment for a brief rest. The girls arrived back at the apartment at about 5:30.