Bonnie and Barry were off early this morning.  Bonnie was going to take a class in sauces from La Cuisine Paris today.
Pat and I found our way down to the river Seine to see the miniature version of the Statue of Liberty presented to the US by France.
We then were off to meet Barry and Bonnie for lunch and visit the cooking stores in the Les Halle area. However Pat wanted to make stop along the way for a photograph of an alley with umbrellas hanging from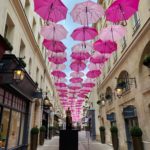 the ceiling.
The place we usually stop by when were in the Les Halles area was closed for renovation.  It appears that there is a tremendous amount of renovation going on everywhere so I think the French economy is booming like the US. We finally stop by La Compas on Rue
Montorgueil.
While in Les Halles we visited Detou, La Bovida, Mora, and of course no trip would be complete without a visit to E. Dehillerin on rue Coquillière.
Back at the apartment for a short rest then of to La Cordonnerie, Chez Yevette and Claude (Hugo's) for dinner. Dinner special were a Foie Gras in a balsamic glaze of a reduction of balsamic vinegar, veal stock and butter. There also was a poached cod over arugula with diced apple and pear and a bit of vinegar.
On the route to the restaurant the subject of Place Vendome came up so I thought I would add a note about it here:
Place Vendôme (French pronunciation: ​[plas vɑ̃dom]) is a square in the 1st arrondissement of Paris, France, located to the north of the Tuileries Gardens and east of the Église de la Madeleine. It is the starting point of the rue de la Paix. Its regular architecture by Jules Hardouin-Mansart and pedimented screens canted across the corners give the rectangular place Vendôme the aspect of an octagon. The original Vendôme Column at the centre of the square was erected by Napoleon I to commemorate the Battle of Austerlitz; it was torn down on 16 May 1871, by decree of the Paris Commune, but subsequently re-erected and remains a prominent feature on the square todayPhoto By Giorgio Galeotti – Flickr: Place Vendome – Paris, France – April 20, 2011, CC BY-SA 2.0, https://commons.wikimedia.org/w/index.php?curid=33010160
The entree special were a sword fish steak dusted with curry, cumin and cinnamon then pan roasted and served with a sauce of honey and vinegar to cut the sweetness of the honey. Pat, Barry and Bonnie when for the sword fish special I opted to get the grilled lamb steak.