Sunday in Paris. Shelley's last day do she wanted to visit some additional markets so we took her to the covered Marché Couvert de Passy which is located at Place de Passy in the 16th a short bus ride for the apartment so she could see the difference between and indoor and an outdoor market.  The Passy covered market is a bit pricy but the quality is high. We all so stop in a the La Grande Épicerie de Paris Rive-Droite location on Rue Passy so Shelley can see the upscale grocery store
We left the Passy market and headed to the Marché Grenelle which is located on Boulevard Grenelle, between rue Vasco de Gama and rue Leblanc under the elevated metro in the 15th arrondissement.  The market is at this location on Wednesdays and Sundays.  This is a large market with maybe 60-70 vendors.  We walked the market looking at the various items, Shelley purchased some roasted almond one with various herbs and one with red pepper.  Pat and I purchased fruit for breakfast, and we purchased some Macrons for Shelley to try before she leaves.
We opted to have lunch at a cafe at the base of the La Motte-Piquet Grenelle metro stop named
Le Pierrot.  We had a waiter who spoke English and French so we practiced back and forth with English and French.  Shelley order the Terrine of Porc with Hazelnuts, Pat the fish and chip and for me the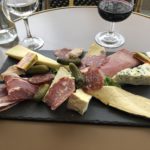 Plate of cheese and meat.
We chose to go for Moules and frites for dinner so Shelley could
reacquaint herself with mussels which she lost her tase for.  We decided to go to Leon de Bruxelle for dinner.  We went to the location on the Champe-Elyseés and the location was very busy for a Sunday night, we slipped right in but had to wait a bit to get the check and leave.  We walked back to Place Franklin Roosevelt and found a set of interesting fountains in the place before we rode the metro back to the apartment
Steps today = 13,337 or 6 miles
.