Off to the markets of Paris.  There are a number of markets that are open on Tuesday so we selected 3 and headed out after a late breakfast, we found that this works best because we miss the morning metro rush and we can limit our food intake to 2 meals and afternoon wine people watching.
The Marché Daumesnil, if Tuesday is your only available day to catch a street market, this is the one. Open between 7 am and 2:30 pm, they are also open on Friday for the same period. A large market with a very high number of stalls which include both food, clothing and other items one may need for daily life in a large city like Paris.  While we would judge the quality a bit lower than some of the more noteworthy market is the center of Paris this one serves the area well.  The Marché Daumesnil is located almost at the end of the metro line #6 north east of the River almost to the outer edge of Paris where to cost of living is a bit less expensive.  None the less its and interesting market to visit.
Second stop was going to be Marche August-Blanqui, but we could see from the metro (it's above ground at the Corvisart stop) that fewer than 10% of the vendors were there. That market is also open Friday's and Saturday's so I'm sure more vendors are participating then.
Third market was Marché Salpetiere near L'Hopital Boulevard. It was small: 3 vendors today and 11 or 12 empty stalls.
Pat saw some thing she wanted to get as a gift so we were off to Montmartre for a second day, however, it was far less crowded so our recommendation is if you have Sacré-Cœur basilica on your list Monday-Thursday is the best day, far less crowed and easier to navigate up rue Steinkerque to the top where you either catch the  or walk up the steps, a lot of steps! Anyway we reached our destination and and Headed to the market at the Bourse. The market was not worth the effort, very few stalls and not what we would consider as a good Paris market.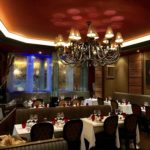 We decided to head back to the 16th for a glass of wine at a bistro in the sun and found La Rotonde de la Muette. Alex provided us with a long list of restaurant in the local area and we have visited many but because we take advantage of the markets and cook in ofter we have not done as good of job with our restaurant visits.
 However tonight we are going to go to Le Grand Bistro Muette. For dinner we chose the 44€ Menu for 2, which included a Kir Royal, a bottle of wine, Started, main Course, Dessert and Coffee. Pat chose the terrine of foie gras, the sole grilled and the strawberry ice cream for dessert, for me the Gâteau Landais Pommes de Terre with foie gras and morel sauce (signature dish of the house), Lamb chops and Paris Brest for dessert.
Steps today = 15,111 or 6.8 miles